Short & Sweet reviews of our favorite books for entrepreneurs. This weeks review:
GETTING TO YES
Negotiating Agreement Without Giving In
by Roger Fisher, William Ury, and Bruce Patton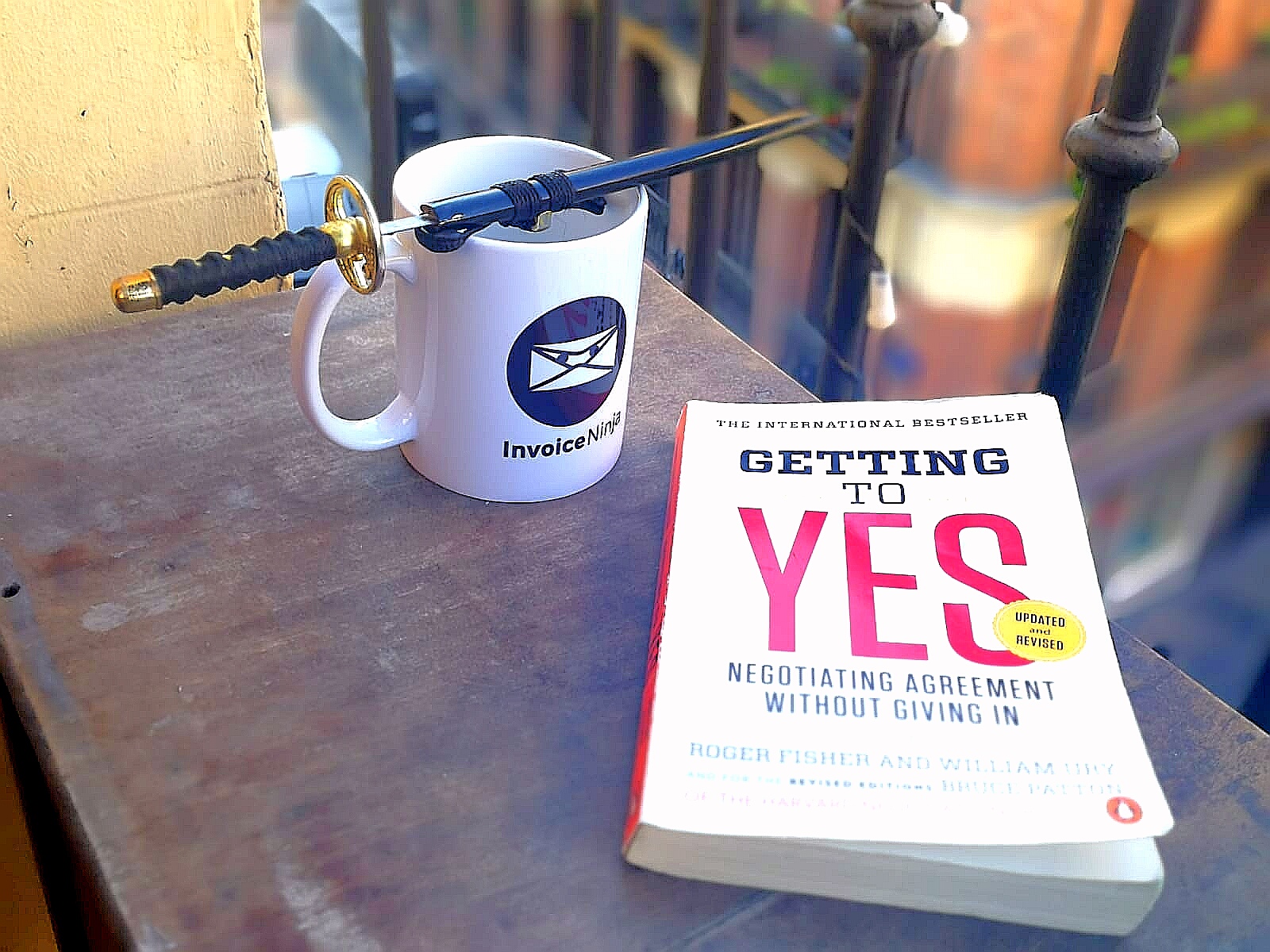 5 out of 5 NINJA STARS
Negotiation is a trained skill. If you haven't trained, you are leaving money on the table – especially if the other party has some negotiation training and you do not. Don't worry- you can quickly get up to speed by reading Getting To Yes. This book is a plain-language, practical, bare-bones, and to-the-point guide to negotiation.
ABOUT THE AUTHORS
Roger Fisher is a Professor or Law Emeritus at Harvard Law School and Director Emeritus of the Harvard Negotiation Project, as well as the Founding Chair of the Program on Negotiation at Harvard Law School. He has consulted for governments, corporations, and individuals, and it the author or co-author of numerous prize-winning scholarly and popular books.
William Ury is cofounder of Harvard's Program on Negotiation and Distinguished Fellow of the Harvard Negotiation Project. He has been a consultant for The White House and has served as a mediator and negotiatior in situations ranging from worker strikes to ethnic wars.
Bruce Patton is Cofounder and Distinguished Fellow of the Harvard Negotiation Project, cofounder of the Program on Negotiation at Harvard Law School, and founder of Vantage Partners, LLC, a consulting firm that helps Global 2000 companies to negotiate and manage their key relationships. Bruce helped to settle the U.S.-Iranian hostage conflict and worked on creating the process that ended apartheid in South Africa. He is also the co-author of the New York Times bestseller: Difficult Conversations: How To Discuss What Matters Most
3 Key Achievements:
Roger Fisher – Originator and executive editor of the award-winning TV series The Advocates.
William Ury – Has mediated workers strikes and even ethnic wars.
Bruce Patton – Helped to create the process that ended apartheid in South Africa.
1 SENTENCE BOOK SUMMARY
In Getting To Yes, the three authors – all Harvard professors – reveal practical tips and techniques acquired through the work of the Harvard Negotiation Project, a group that "deals with all levels of negotiation and conflict resolution."
5 TOP QUOTES
"In the form of business competition, conflict helps create prosperity."
"By disentangling the people from the problem, you can be 'soft on the people' and 'hard on the problem.'"
"Failing to deal with others sensitively as human beings prone to human reactions can be disastrous for a negotiation."
"Conflict lies not in objective reality, but in people's heads."
"Whatever you say, you should expect that the other side will almost always hear something different."
10 KEY TAKEAWAYS
Focus on interests, not positions.
Positional bargaining happens when each side takes a superficial position that is intertwined with their egos. It consists of the taking up and giving up of positions, such as "that's crazy, that's not realistic, or that's not serious." Positional bargaining is little more than a contest of wills.
Separate the people from the problem
Remember tht negotiators as sensitive human beings with different values, backgrounds, emotions, and biases.
Interest-based negotiation focuses on the interests of the parties, not superficial positions.
A position is a superficial conclusion about the other party, while the interests are what caused you to come to that conclusion. If interests are satisfied in news ways, your conclusion can change.
Conflict often leads to new creative solutions. So in a way, conflict (in business) is good.
You can tell the difference between a position and an interest because often positions are like big billboards – they are loud and attention-grabbing. Interests, on the other hand, can be unexpressed and hard to put your finger on.
One of the best ways to discover and identify the interests behind a position is to ask the other party why they said or believe something. Ask them how they came to that conclusion.
The most powerful interests are basic human needs: security, economic well-being, a sense of belonging, recognition, and control over one's life.
OUR NINJA OPINION
ATTENTION FREELANCERS: Hands down, this is one of the best books on negotiation we have read because it is so practical, concise, and effective. You will get more from your negotiations if you read this book! A must-have for Invoice Ninjas.