Short & Sweet reviews of our favorite books for entrepreneurs. This weeks review:
NINJA BOOK REVIEW: FANATICAL PROSPECTING
The Ultimate Guide To Opening Sales Conversations & Filling The Pipeline By Leveraging Social Selling, Telephone, E-Mail, Text, and Cold Calling.
by Jeb Blount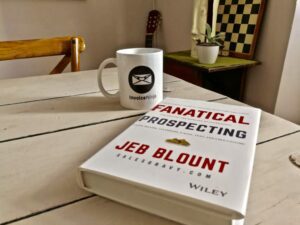 5 out of 5 NINJA STARS
All B2B sales start with prospecting: the process of getting good leads. This book is basically the bible of prospecting and thus it is a must-have for anyone selling to businesses.
ABOUT THE AUTHOR
Jeb Blount is the CEO of Sales Gravy and advisor to the world´s leading organizations, consulting them on the impact of emotional intelligence and interpersonal skills in closing deals. He also wrote SALES EQ: How Ultra-High Performers Leverage Sales-Specific Emotional Intelligence To Close the Complex Deal which we reviewed here. 
1 SENTENCE BOOK SUMMARY
Many businesses are under the impression that increased sales are dependent on having good closers. Wrong. Many good salespeople are good at closing but are faced with unclosable leads. The key to success is not having good closers but having good prospectors who bring in the best, most closable leads.
FAVORITE QUOTES
"The more you prospect, the luckier you get."
"In sales, you control your own destiny."
KEY TAKEAWAYS
"Superstars are relentless, unstoppable prosectors."
  The prospecting you do in the next 30 days will pay off for the next 90 days. This means if your deals pipeline is empty now, it's because you were not prospecting months ago.
  "Ninety-nine percent of sales slumps can be linked directly to a failure to prospect."
 "There are three mindsets that hold salespeople back from prospecting: procrastination, perfectionism, and paralysis from analysis.
 "Unless you are willing to accept complete responsibility for owning your own time, nothing else matters."
 "If you invest just an hour a day to make 25 to 50 teleprospecting calls, your pipeline will be packed."
 "Concentrate your power on prospecting – no multitasking."
 "There are four core prospective objectives: "Set an appointment, gather information and qualify, close a sale, build familiarity."
"The first step in qualifying is to clearly define the strike zone – a profile of a qualified prospect. If you don´t define the strike zone, you will waste a lot of time chasing ugly deals."
The FIVE Cs of social selling are connecting, content creation, content curation, conversion, and consistency."
OUR NINJA OPINION
While "inbound marketing" gets a lot of hype, if you are selling B2B, you need to be prospecting proactively for business, and that means getting the best leads with a high potential of closing. This book without a doubt will help you to do just that.