Short & Sweet reviews of our favorite books for entrepreneurs. This weeks review:
Jab, Jab, Jab, Right Hook by Gary Vaynerchuk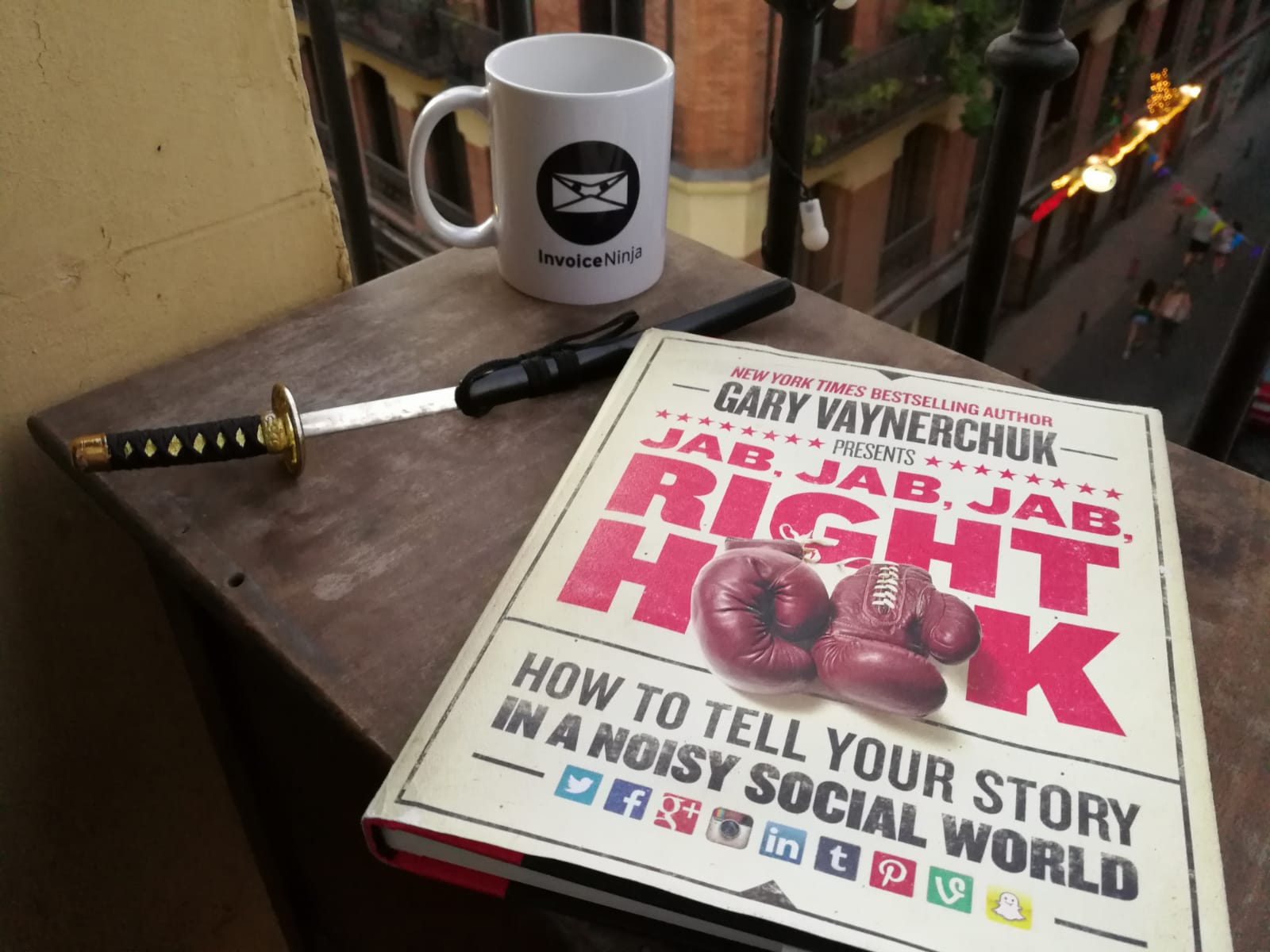 5 out of 5 NINJA STARS
Best for solopreneurs ready to put in the work to tackle social media on their own.
ABOUT THE AUTHOR
Gary Vaynerchuck's family immigrated to the United States from Belarus in 1978, when he was only three-years-old. Gary was a born entrepreneur and as a pre-teen operated lemonade stands and sold baseball cards at trade shows, earning thousands or dollars on weekends. At 14-years-old, he joined his family's retail liquor store business.  In 1998, he graduated college and took the store over from his father, changing its name from Shoppers Discount Liquors to Wine Library TV. Gary began selling wine online, which was truly revolutionary at the time. Through e-commerce, Gary massively increased sales, and to support his e-commerce efforts, he launched a Wine Library TV Youtube station in which he personally reviewed wines, gaining a massive audience and becoming one of the first Youtube Influencers. In 2011, Gary left the wine business to focus exclusively  on VaynerMedia, a digital ad agency he founded with his brother.
Gary's 3 Key Achievements
A pioneer in new tech, Gary embraced e-commerce and Youtube very early on, leveraging them to grow his family's wine business from $3M to $60M
New York Times Best-Selling author multiple times for his books about social media marketing
Founder of Vayner Media, a social media digital marketing agency with over 900 employees and more than $100M in revenue
BOOK SUMMARY
Jab, Jab, Jab, Right Hook refers to the idea that social marketing should be about "give, give, give, take." Or in other words, 3/4 of the content you put out on social media should entertain or teach your audience something. It should be all about providing value to them. Only 1/4 of the time should you go for the hard sale, promoting your products and services. According to Gary, "The point is to give and give and give, for no other reason that to entertain your customers and make them feel like you get them." If you do this correctly, then the times you do go in for the hard sale, your customers will respond positively because they will like and trust you. This book gives practical advice and case studies for marketing succeess on all of the main social networks.
TEN KEY TAKEAWAYS
"There is no sale without the story; no knockout without the setup."
"There is no individual 6-month campaign; there's only the 365-dat campain, during which you produce new content daily.
"Whatever experience people are seeking from their preferred platforms, that's what marketers should attend to replicate."
"Be all of the characteristics we enjoy in other human beings."
"As for how the company can tap into its customers' desire to interact with people, it just needs to be human."
"Successful storytelling builds brand equity, and businesses with high brand equity don't need to draw as much attention to themselves and their achievements as those that are still establishing their value to the consumer."
"Though your business's micro-content will vary wildly every day, it must consistently answer the question, who are we."
"When you're self aware, you know your message. When you know your message, it's easy to keep it consistent in every setting."
"The point is to give and give and give, for no other reason that to entertain your customers and make them feel like you get them."
"Any time you invite debate and discussion or introduce elements of fun and surprise to content, you increase your likelihood of not just making a connection, but building a relationship that leads to a sale."
OUR NINJA OPINION
This book is a must-have for solopreneurs who are ready to roll up their sleeves and do their social media marketing themselves. It is the perfect social media marketing bible full of practical advice, case studies, what to do and what NOT do to.  The book is concise and to the point with no fluff or extra fat. Because we consider this book a must-have for solopreneurs, we give it 5 out of 5 stars.