Welcome to Invoice Ninja Stories!
This is the second article profiling our Invoice Ninja users all around the world.
Would you like to be highlighted? Email us @ community@invoiceninja.com
The second Invoice Ninja to be interviewed is Ari Kuchar, Australian filmmaker & producer.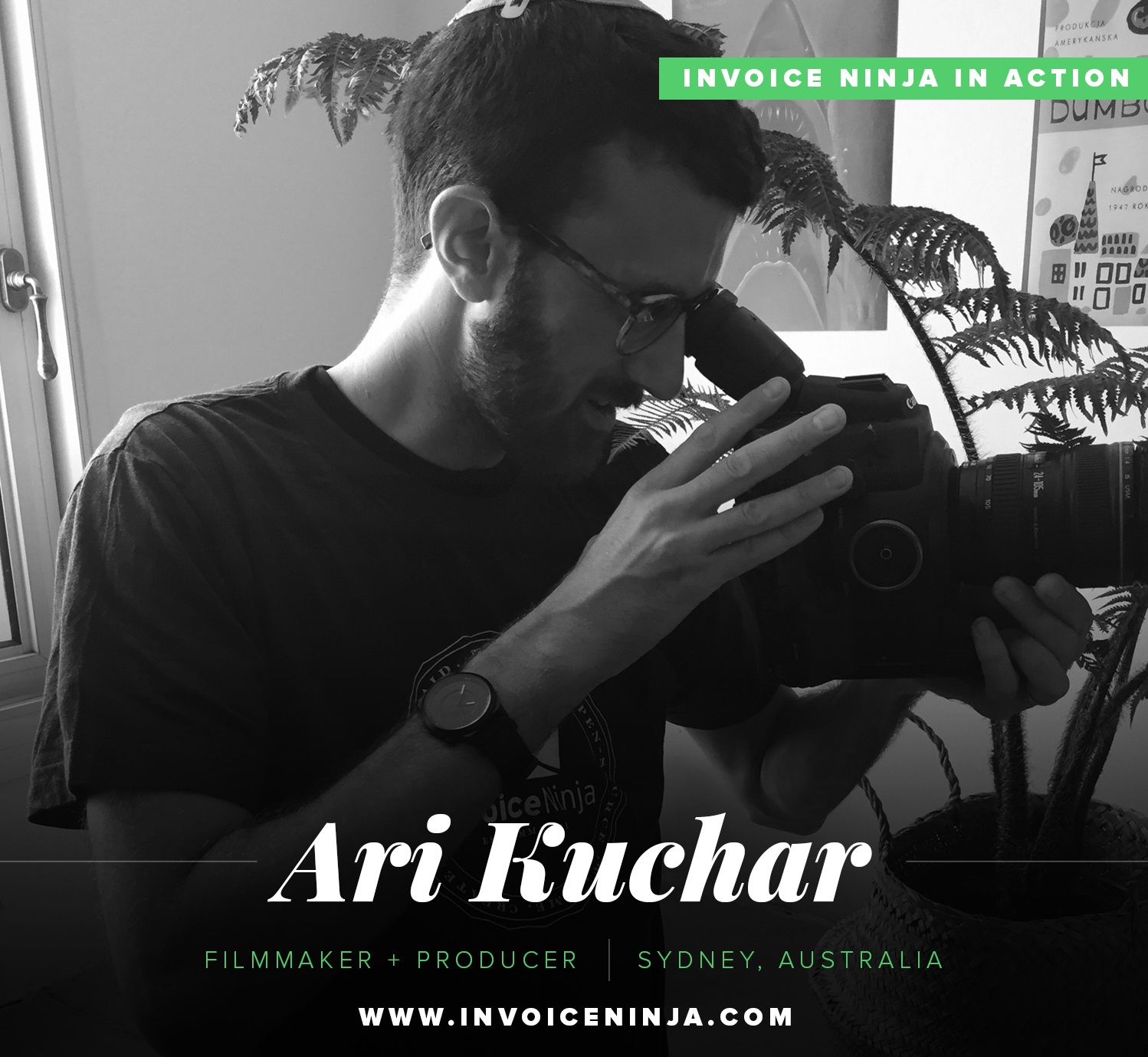 Ari Kuchar Productions / Cre8
Video & Animation Production
Ari Kuchar is a multi award-winning commercial and documentary filmmaker and producer. He has been working in film production for over a decade, working with clients such as Adidas, Nickelodeon and the Wall Street Journal.
What industry challenge are you fulfilling?
Video Production services can be expensive. Moreover, if you're a client without the necessary experience, the process can be daunting and time-consuming. I have experience across the entire spectrum of film production, so I can work closely with a client throughout the entire process and ensure that every step is clear and every cost is accounted for.
My business isn't groundbreaking in the least however, I have a strong work ethic and sense of responsibility that means I want people to get their money's worth and get a good product as a result. It's a time-worn cliché, but I'm only happy if my client is happy. Now, if their pet dies on the same day as we successfully finish a project – that gets a little complicated.
Tell us about your business growth?
My business has grown organically. I haven't broadly advertised my services and my new clients arrive by word of mouth and they tend to stay. That's the way I like to work because I really value the real and human relationships I have with my clients.
My business has grown to the point that I now manage a pool of vetted and talented freelancers. I am fairly strict about who I work with and will only select people with a strong work ethic who care deeply about the work they produce. An exciting part of my business is that I have also begun a collective whereby other creatives can work out of the same hub, giving us the flexibility and ease to collaborate or simply get advice, learn and grow.
What does the future hold?
I don't have aspirations to grow too large. To me, the real value is not monetary but rather the work I create and the satisfaction of my customers. With this in mind, I have started working on pro-bono projects for charities and social movements.
Thoughts on your industry?
Film production and animation is an industry that moves so fast it can be dizzying. So many filmmakers spend a fortune for the latest tools but any successful filmmaker will tell you the following: It is all about story – and that is priceless.
NINJA BENEFITS?
I work in a creative industry and no matter how I look at it; the admin side of my business is just not sexy. Invoice Ninja makes bookkeeping as painless as possible by providing me with an intuitive and timesaving interface. It also reads my mind, when I want a particular feature it suddenly appears in the app before I know it.
FAVORITE FEATURES?
Apart from using it for quotations and invoicing, features such as time-tracking are incredibly useful. The client statements are also great. There are just so many ways to drill down to my data – it's just so flexible.
THE LAST WORD…
Video has never been so popular. There are now 3-year-olds who are now more prolific in the art form than the masters of cinema were in their entire career. But the sheer amount of videos produced also creates a lot of noise and the challenge of a good video producer is to cut through that. I often say that everyone has a story. This is important because your story is unique and if told correctly it can genuinely connect you or your brand to your audience. In a world full of fleeting messages and values – such connections are remarkably powerful.   
NINJA PLUG
I'm a video production company that feels like you are dealing with one person and my aim to is to make that experience as fun and easy as possible.