Welcome to Invoice Ninja Stories!
This is the first article in our new series profiling our Invoice Ninja users all around the world.
Would you like to be highlighted? Email us @ community@invoiceninja.com
The first Invoice Ninja to be interviewed is Phillip Stark, an American creative director, content producer, and entrepreneur based in Madrid, Spain.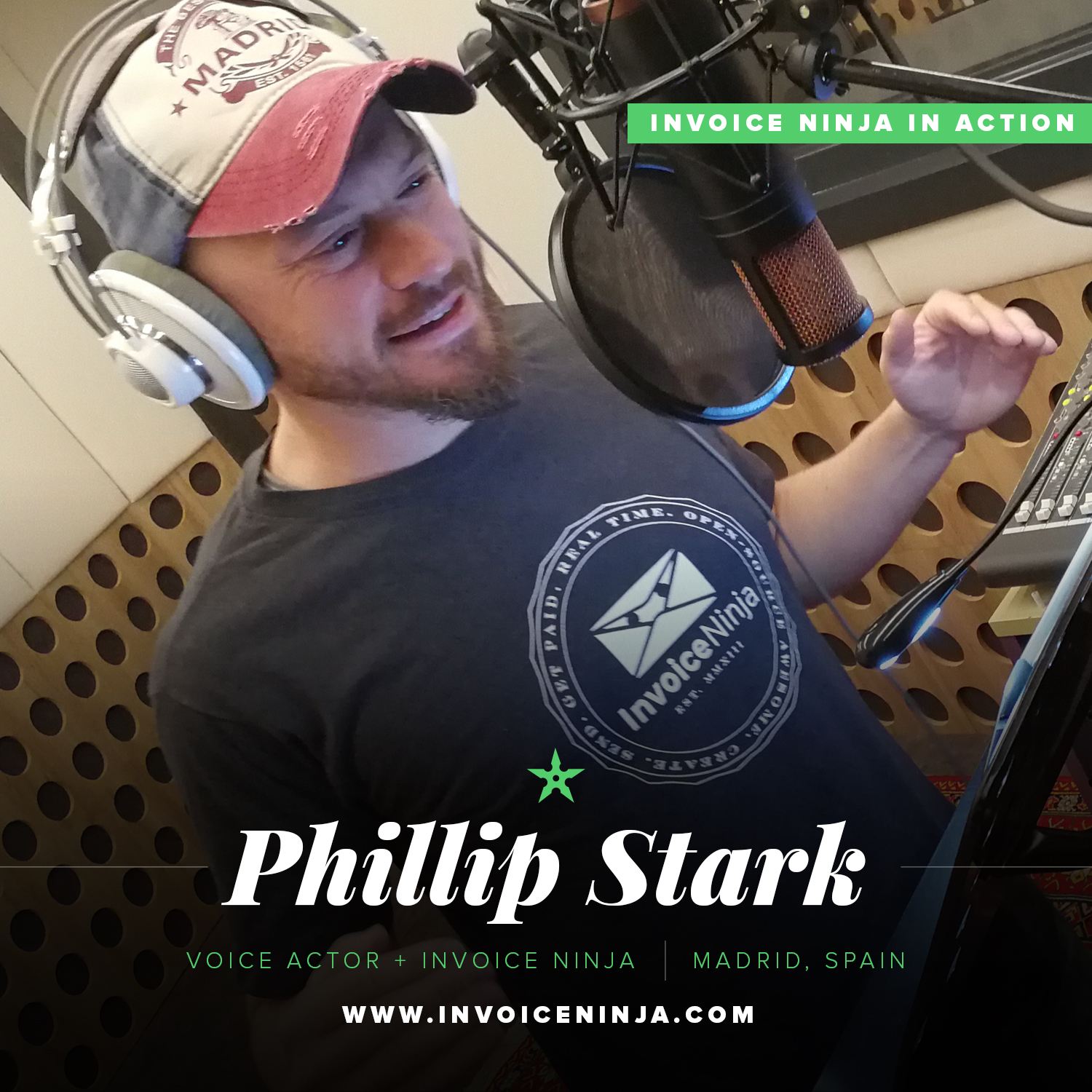 After graduating film school in Ohio, Phillip moved to Spain in 2004, advertising himself on Craigslist Madrid as "An American Producer in Spain – I speak English!" At the time, very few people in Spain spoke English, so Phillip immediately got calls from American and British television shows, corporations, and communication agencies. His customers were desperate to find and manage English-speaking video crews across Spain. After successfully helping these clients to complete their video projects, they would ask Phillip if he could source  English-speaking video crews for them in other countries. They would ask, "Phil, is there anyone like you in Beijing, Buenos Aires, Berlin…" So like a good entrepreneur, Phillip answered "yes" to everyone and then went out and found the best people for the jobs.
Fourteen years later, Phillip is the head of Stark Crew, a global video agency with 1000+ video crews across 6 continents that provides its customers to find and manage video crews in any location on Earth, anytime. His customer roster includes global brands such as Facebook, Uber, Instagram, and Taco Bell.
Phillip is also a writer, lyricist, musician, and voice talent. He wrote a 60-episode web series for academic publisher McGraw Hill, he has licensed his original songs to brands such as Rip Curl and Axe Shower Gel, and he is currently writing lyrics for the new record of renowned rock band in Spain.
 NINJA BENEFITS
For me, the thing I love most about Invoice Ninja is the speed, hands down. I am insanely busy – I run a global video company, play in a band, work with other bands, produce my own video blog, do creative strategy and content production for other companies, and work as a voice talent. With all of this activities, I cannot waste a single second in admin stuff.
Also, I have main business with Stark Crew and a lot of side hustles, and I need to keep things separate. For example, I do a lot of Voice Over work on the side – I have an Invoice Ninja account that I only use for voice overs, to keep the branding consistent. So in short, it's fast and efficient for me.
FAVORITE FEATURES
Because speed is my biggest problem, the easy-to-use and good-looking invoice templates is my favorite  feature. Also, as I work with clients all over the globe, I really like that I can assign different currencies to different clients.
QUOTE
I'll keep to my work as a voice talent for this one. "I run a video company so I should be promoting video 100% of the time, but the fact is that we cannot underestimate the explosive growth of audio. People cannot watch a video while they are working, but they can listen to a podcast. This is why I think audio is only going to grow as the content people consume while they are doing other things such as working – or even working out. Companies and marketers should have this in mind and produce more audio content, even if it's just making an audio version of a text article you've already published. People might not be able to read your article because they are busy with other things, but they can certainly listen to it!"
You can learn more about Phillip's work as a Voice Talent, Creative Director, and Content Producer at www.phillipstark.com or visit the Stark Crew website.