The Payment Card Industry Data Security Standard (PCI DSS) is a set of security standards designed to ensure that ALL companies that accept, process, store or transmit credit card information maintain a secure environment. The PCI DSS applies to any organization, regardless of size or number of transactions, that accepts, transmits or stores any cardholder data. The current PCI DSS documents can be found on the PCI Security Standards Council website.
Invoice Ninja has obtained a Certificate of PCI DSS (Payment Card Industry Data Security Standards Validation). Merchant Compliance recognized by Security Metrics.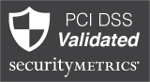 Users with questions regarding PCI Compliance, account data use, or questions on any data use matter, should contact: compliance@invoiceninja.com or legal@invoiceninja.com
Start using Invoice Ninja Today!